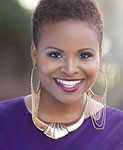 After having a persistent cough for two weeks Erica finally decided to see her physician. After receiving two Computerized Tomography (CAT or CT) Scans Erica's doctor informed her that she had enlarged lymph nodes on her lungs.
As her health began to deteriorate and during a hospital stay, doctors performed another CT scan, which revealed the enlarged lymph nodes had spread from her lungs to her stomach and arm pits, strongly suggesting lymphoma. After a battery of tests, Erica was finally diagnosed with Stage IV Hodgkin's Lymphoma at the age of 27.
What followed was a grueling ordeal that included low blood counts, shingles, resistant staph infection (MRSA), blood clots, anxiety, happy days and sad days. Within 6 months of her diagnosis, tests revealed that her lymphoma had gone into remission!
Despite the cancer going into remission, Erica still had to endure chemotherapy for another 6 months, which created nausea and painful tingling throughout her body. It seemed as if the sickness lasted until the following chemo treatment. There was a point when Erica felt like giving up, but her doctor insisted that she remain strong through the last therapy session to increase the odds that the cancer will not return.
The road to recovery was tremendously hard for Erica. However, after six months of chemotherapy, transplants, transfusions and lots and lots of prayer, as Erica puts it, "I BEAT CANCERS BUTT... by God's grace!"
Erica founded "D'zire2Survive" to improve the quality of life of patients and their families touched by the lymphoma disease by providing education and up to date information. Erica wants to pay it forward by inspiring patients with peer to peer comfort to help them continue to fight and overcome their battle with blood cancers.
Learn more about Erica's journey:
Website: http://www.ericasurvived.com
Facebook: www.facebook.com/beatcancersbutt
Instagram: @ericasurvived
Twitter: @ericasurvived
Lymphoma Research Foundation: www.Lymphoma.org